Pro-Tec Powder Paint - Glows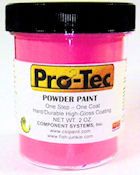 Pro-Tec Powder Paint - Glows
According to industry experts, Pro-Tec powder paints are the most durable paints in the paint industry. These paints are packaged by weight, not volume, in small jars or resealable plastic bags. Buy the jars and then return for a refill at a lower price. The refill bags are intended for tackle crafters who already have purchased jars previously and/or own a fluid bed system. Pro-Tec Glows give some luminescence to your bait in dark conditions. Charge your glow coated bait under a bright light for a short period. Need a brighter and longer lasting glow, try our Super Glows.
Here's what Component Systems says about their Pro-Tec powder paint:
Imagine a paint with virtually no odor, no drying time, no solvents and no mixing. Now imagine a brilliant, super-durable high gloss finish in seconds! These qualities, coupled with a spectrum of 60+ colors to choose from, have made Pro-Tec Powder Paint the obvious choice for thousands of tackle manufacturers and consumers worldwide.
A paint that requires no primer coat and no gloss coat translates into more money in your pocket. In fact, 2-oz. of Pro-Tec Powder Paint will cover over 450 of your 3/8 oz. jigs. For the manufacturer, that means paying about one cent per jig based on the 2-oz. price. Combine that with a painting process that takes less than 20 minutes from start to finish and you've got an unbeatable product.
One-coat coverage with no white primer needed

Non-flammable and environmentally safe
Reviews