Pro-Tec Powder Paint - Super Glows, UV Blast & Chrome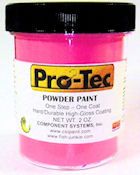 Pro-Tec Powder Paint - Super Glows, UV Blast & Chrome
A glow that puts on a show, attracting fish that put up a fight! That's what you can expect from one of the most popular lure finishes to emerge in recent years.
Pro-Tec Super Glow is unlike any other paint. It's extra durable and extra bright. In fact, it glows its true color up to five times brighter and twice as long as standard glow paints. Lures finished with Pro-Tec Super Glow attract fish even in dark fishing conditions. And more light intensity means less recharging. Pro-Tec Super Glow is available in six of the most popular colors: White, Yellow, Green, Orange, Red and Blue. Intensity and length of intensity vary from color to color. In addition to the Super Glow coatings, also listed here is UV Blast and Chrome.
Your lure will flash even in dark, murky water where UV light, but not visible light, penetrates. Research continues to show that fish see and are attracted to UV light. And with UV BLAST! you get the strongest UV enhancer available today. So why let your lures get lost in the dark? Fire them up with UV BLAST!
Use Pro-Tec Clear Overcoat with UV Blast for the final coat over your favorite lure. This hard/durable high gloss coating permanently locks in the superior characteristics of UV and enhances a lure making easier for fish to see.
Retail packaged in 1 oz and 2 oz. jars as well as resealable bags.
Reviews